Product Introduce
FRD900S sealing machine continuous band sealer machine is a new model of automatic plastic film sealing machine, which integrates color printing, sealing, continuous transmission of products.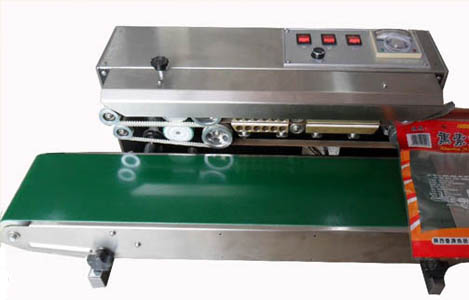 Printing
with clean and bright pattern on the sealing part, color selectable, instant printing and instant dry, and convenient to change the characters.
Application
FRD900S Continuous Band Sealer are used for increasing production speeds in semi automatic bag sealing applications,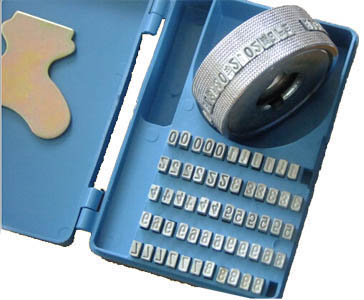 Options
Most sealers are available hot roll or hot stamping printing coders, and a choice of powder coated metal alloys or stainless steel construction.
Sealer Operation
Sealer operation is extremely simple as the operator needs only to feed bags into the machine. The filled bags rest on a motorized conveyor belt while the top of the bag is carefully guided through the seal process by PTFE Bands.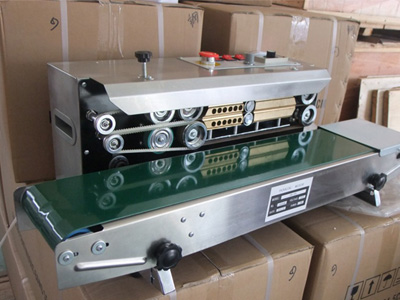 The above pictures are only for reference as different product batch & specs.Please contact our sales staff for confirm.

Technical Parameters
Model
1.FRD-900S
2.FRD-900V
3.FRD-900
Power
AC 220V/50HZ  110V/60HZ
Transmission power
5.50W
Sealing heating power
6.300*2W
Sealing speed
7.0-12 (0-6)m/min
Sealing width
8.8mm 10mm
Control Temp.
9.0-300(adjustable)
Distance from sealing center  to conveyor
10.10-40
11.150-270
12.10-40
Single film max thickness
13.≤0.08
Conveyor loading
14.≤3gs
Machine size
15.840*380*320mm
16.840*380*550mm
17.540*550*800mm
Net weight
18.32kg
19.37kg
20.40kg