Vacuum packaging technology originated in the 1940s. Since the successful application of polyester and polyethylene plastic film in commodity packaging in 1950, chamber vacuum machine has developed rapidly. Its technical development trend is mainly reflected in five aspects: high productivity, automation, single machine multi-function, composition of production line and adoption of relevant new technologies.
1. High productivity. The productivity of chamber vacuum machine has increased from several pieces per minute to ten pieces. The productivity of thermoforming filling sealing machine can reach more than 500 pieces / min.
2. Automation. The double chamber chamber vacuum machine has the functions of vacuum pumping, sealing, printing and cooling at one time. It is mainly used for the packaging of tea, peanut, shrimp, corn and other foods.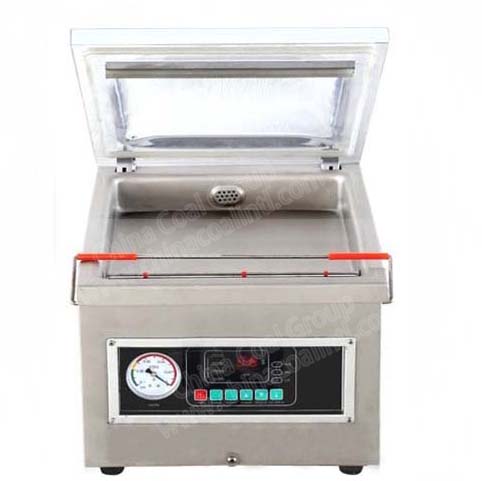 3. Single machine multifunction. Multi functions can be realized on a single machine, which can easily expand the scope of use. Modular design must be adopted to realize the multi-function of single machine. Through the transformation and combination of functional modules, it becomes a different type of chamber vacuum machine suitable for different packaging materials, packaging articles and packaging requirements. Representative products include spindle wheel multi station bag making vacuum packaging machine produced by Hesser factory affiliated to Bosch Company in Germany. Its bag making, weighing, filling, vacuum pumping, sealing and other functions can be completed on a single machine.
4.In terms of packaging methods, inflatable packaging is widely used to continuous band sealer, and the research of inflatable components, packaging materials and inflatable packaging machine are closely combined; In control technology, more computer technology and microelectronics technology are applied; In the aspect of sealing, the application of heat pipe and cold sealing technology can also directly install the advanced device on the vacuum packaging machine, such as the computer-controlled high-precision combined scale for coarse-grained materials; In rotary or chamber vacuum machine, advanced high-speed circular arc cam indexing machines are applied.
The leading vacuum technology has strong suction, and has been equipped with overvoltage protection, with more perfect packaging and longer service life; There is little need to maintain more efficiency; The vacuum time is shortened from 15 seconds to 3-5 seconds, which is a reliable control system.